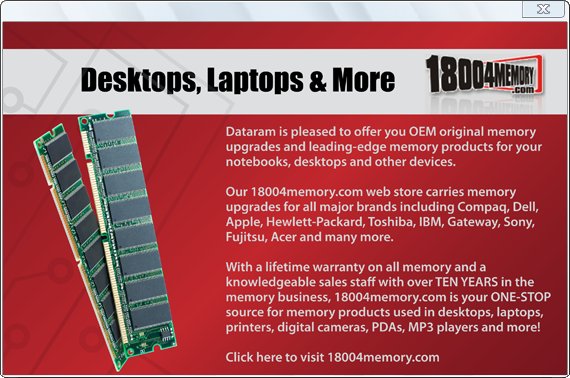 --=[ RAM Disk ]=--
Installing RAM DiskInformation:
RAMDisk is a program that takes a portion of your system memory and uses it as a disk drive. What is the benefit? In a word:
SPEED!
An additional feature of a RAMDisk is that it will never wear out. You
can access it at maximum bandwidth 24/7/365 without fear of mechanical
failure, or fragmentation (a RAMDisk can become fragmented just like any
other disk, but it does not take a performance hit like a physical disk
does when it becomes fragmented). A RAMDisk operating at maximum
bandwidth does not produce excessive heat, noise or vibrations.
Most users use RAMDisk to speed up applications like:


Databases

Internet Explorer and Firefox cache for faster web surfing

Audio and Video editing

CAD programs

Photoshop Scratch Disk

Speeding up CD duplication

Games

SETI processing

TEMP files

Swap space

Web server cache

Custom applications with high I/O, high bandwidth, or high security requirements

You can download Dataram RAMDisk
Instructions:


Download the RAMdisk and install it to your system.

Once installed you can copy my system here which uses a 4092 MB Ram
Disk. You may set a smaller or larger drive to use. This is up to you.

Set what you see in the screen shot below. Notice the drive is set to Unformatted. You will see why in a moment.



Once you have set what you see in the above pic go back to the Settings tab and hit Start RAMDisk

Wait while it loads the driver.

Then you need to mount the drive and format it.

Start -> Control Panel -> System and Security -> Administrative Tools -> Computer Management -> Disk Management

Here you should now be greeted with a prompt that you have a new drive.

Mount the drive and quick format it NTFS or FAT32, give the name RamDrive and assign letter R.

Once the drive is formatted navigate to My Computer, you should now see the RamDrive.

Click to open the RamDrive.

Create 2 folders if you use Internet Explore and Firefox. One called IE_Cache and the other named FF_Cache.

Once you have done this close down My Computer.

It's now time to reboot the PC to make sure the RamDisk is working correctly.

You can manually close the RamDisk window now [it has saved your
settings] and all other apps you may have open and proceed to reboot.

Note:
Now shutdown should take a little longer than normal, this
is due to the image of data on the RamDisk being written to the SSD
drive. On boot the machine should also take a few seconds longer than
normal, this is due to the Ramdisk being formatted then the image that
was written to the SSD is mounted on the RamDisk. So where you left off
is where you restart.


Navigate back to my computer.

you should see the RamDisk looking like a standard hard drive.

If its not there you need to go back to the Ramdisk App settings and check its configured correctly.

Firefox Cache Tweak

Information:
You will need to add a single command string into Firefox to make it
store temporary internet files and all cache data to the RamDrive.
Instruction:


Open up Firefox. In the address bar type about:config

Click the I'll be careful I promise button.



Right click anywhere in the values in the lower portion of the screen and choose New -> String.



Type in browser.cache.disk.parent_directory into the "Preference name"

Click OK.



Type in R:\FF_Cache in the "string value" [if R: is the RamDisk and you created a folder called FF_Cache].

Click OK.



Restart Firefox.

That's it. Now all browser cache from Firefox will go to the
RamDrive and save writing over and over to your SSD saving the number of
writes.

Internet Explorer Cache Tweak

Information:
You will need to move Temporary Internet Files folder of Internet
Explorer to make it store temporary internet files and all cache data to
the RamDrive.
Instruction:


Open Internet Options.

On the General tab look for "Temporary Internet files" or "Browsing history" and hit Settings.



Set the box size to 50 MB.

Then hit Move folder and point to the Cache folder you made on the RamDisk, e.g. R:\IE_Cache

Click OK.

Moving TEMP and TMP Folder

Information:
This tweak takes the Windows
TEMP
folder and also the
TMP
folder, and moves it to the RamDrive.
Instruction:


Start Menu -> Right-Click Computer -> Properties -> Advanced System Settings -> Advanced Tab

Click on Environment Variables



Select The TEMP variable and then click Edit.



Then change the Variable Value to where the RamDrive is. I set up a Temp folder on my R: drive, i.e. R:\Temp.

Then click OK.



Repeat the same thing for the TMP folder and click OK.

Download Here For Dataram RAMDisk :
Last edited by Black Deejay on Mon Mar 07, 2011 7:32 pm; edited 3 times in total
_______________________________________________
[You must be registered and logged in to see this link.]
[You must be registered and logged in to see this link.]
[You must be registered and logged in to see this link.]
[You must be registered and logged in to see this link.]
[You must be registered and logged in to see this link.]
[You must be registered and logged in to see this link.]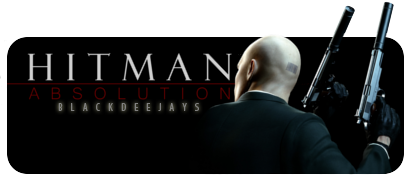 Posts

: 786


Thanks

: 13


Join date

: 2011-01-26


Location

: Speed Channel City



perhhhhhhhhhhhhhhhh :affraid:

mcm laju gile bila search :twisted:
Thanks admin black deejay :flower:






Posts

: 119


Thanks

: 2


Join date

: 2011-01-28




---
Permissions in this forum:
You
cannot
reply to topics in this forum